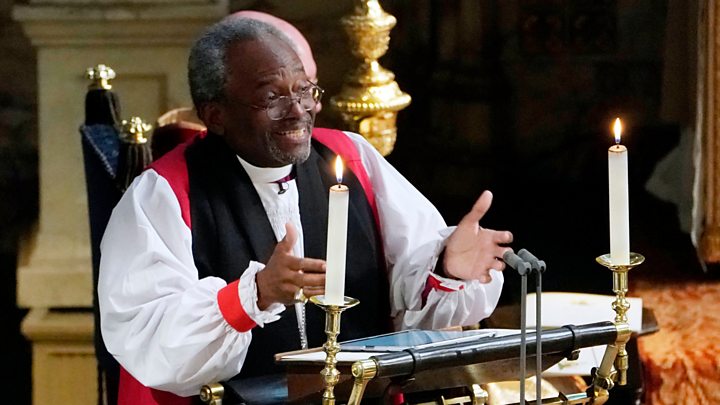 Love's ardour caught the imagination of both the world and the Church last weekend: the Church, because it was Pentecost, and the world, because of the Royal Wedding. At the latter, it was no coincidence that the American Anglican Bishop Curry preached - memorably - on love as a fire which burns in every heart: for that is what the Holy Spirit, which descended on the Apostles fifty days after Easter, is all about. It is the Spirit of that divine love which is not just characteristic of God, but, St John reports, actually
is
God.
Pentecost existed before the Christian Church. It was a Jewish festival, and this is the reason so many Jews from so many nations, speaking all their different languages, were gathered in Jerusalem at the time. They had come, fifty days after the Passover, to mark the gift of God to Moses of the Law, the Torah which forms the heart of the Jewish faith and scriptures. So, it was a fitting time for the Holy Spirit to descend on the Apostles, appearing to them like tongues of flame licking around their heads, and sending them out into the streets to proclaim the Gospel of love: a message which those international bystanders heard in their own tongue, showing the universal scope of the message.
To this day, the successors of the Apostles, the bishops of the Church, wear flame-shaped hats called mitres to show that the gift of the Spirit has been passed down to them by laying on of hands from generation to generation. And yet the Holy Spirit is certainly not confined to bishops alone, nor even to the Apostles.
The Holy Spirit was at work long before Pentecost. It was the Holy Spirit which moved over the waters and moulded them into being at the beginning of time; which breathed life into man; which overshadowed the Blessed Virgin Mary and by which Jesus was conceived; which drove him into the desert to be tempted; which appeared in the form of a dove at his baptism; which he breathed out into creation from the Cross.
And the Holy Spirit has continued to work long since Pentecost, among other things in works of healing, gifts of wisdom and truth, moments of spiritual insight, and in the sacraments, especially in the Eucharist where it is called upon to change bread and wine into the spiritual food of Christ's own body and blood. This same transforming power works in many ways to make us more like Christ, people who live for others rather than ourselves: in other words, transforms us into love.
Much in this world can stifle the flame of love in our hearts. Distractions abound. The remedy is prayer, that lifting of our internal "fire blankets" to open our hearts to the oxygen of the Holy Spirit - God's breath - that the flame within might grow; and the fuel for that fire is the Eucharist, a fuel which is never consumed but which yields eternal light, and by which we are spiritually conformed to the image of the God who is none other than the self-gift of Christ-like love.